The key to most online marketing is to get a conversation going with your potential and existing customers. Social media is like a big cocktail party; in order to network you need a good ice-breaker. Think about Twitter as one of the great ice-breakers in this online party. So how do you get people to engage in meaningful conversations?
You can start a conversation on Twitter in many different ways, but they all come back this: be yourself and find the right tone to engage with people you want to get to know better.
In this post I'll explore some easy ways to start Twitter conversations. You'll see just how easy it is to take this first step in networking on Twitter in fewer than 140 characters at a time.
Here are 13 great tips to better network with people on Twitter:
#1: Discuss What You Know: Publish Useful Tips or Facts, Daily
One of the first ways you can contribute to the conversation is to share useful information. This is always welcome when it's given from a fresh perspective. And it's a great way to grab the attention of the people you want to reach.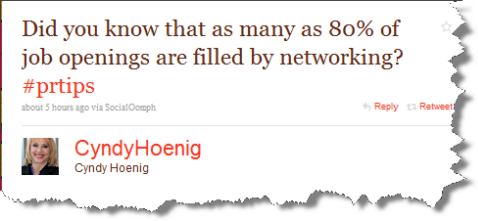 Cyndy Hoenig offers about five PR tips a day… Notice how she used the word you in this tweet to grab readers' interest.
#2: Retweet to Acknowledge Others
RT = Retweet in Twitter parlance. You basically hit retweet to share and acknowledge other peoples best ideas. Why not add a comment at the same time and add more to the conversation? Simply being social is a great way to get people to notice you and begin making connections.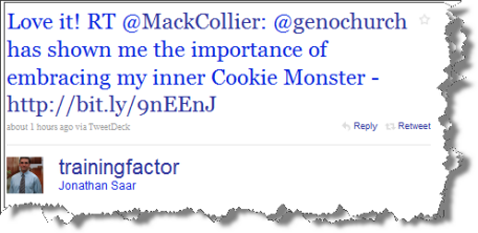 Jonathan Saar is simply being social.
#3: Reach Out With Follow Friday
Although Follow Friday (#FF) has been around a while, it can still be a good way to initiate conversations when you put a little thought into it. Just put #FF in a post of Friday and see what happens.
#4: Answer Other People's Tweets
Another easy way to engage people is to respond to others' tweets. Whether it's a question or something that grabs your attention, try to respond in an authentic voice. People recognize sincerity and are more likely to respond to it.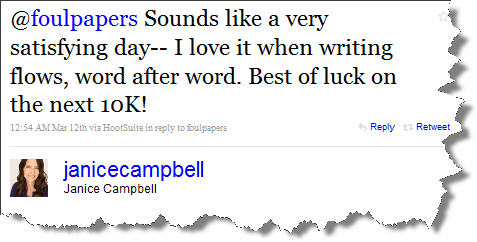 Janice Campbell shows us how natural conversations can be on Twitter.
#5: Respond When Something Grabs Your Attention
When responding to something that interests you, show it. Show you care about what people have to say.

Cheryl Garrett adds a personal touch to her professional Twitter presence.
#6: Introduce Yourself to New Followers
Give your new followers a personal welcome that shows you care about getting to know them better. Some people do this in the public Twitter feed and some people prefer introductions in direct messages. Find out what's best for your audience.
#7: Introduce Yourself at Twitter Events
You'll notice people following live events on Twitter with a hashtag. When you attend your first event on Twitter, don't get distracted by the tools and forget your social manners. Remember tointroduce yourself to everyone. And why not follow up personally with a few of the other attendees after the event? This is a great way to meet new people with similar interests.
#8: Let People Know When You Add Them to Your Twitter List
As you add people to your Twitter lists, give them a shout-out to let them know. Everyone enjoys this small sign of recognition.
#9: Ask For Help
Many other people on Twitter are also looking to engage in meaningful conversations. Make it easy for others to respond to you and tell them what you are looking for.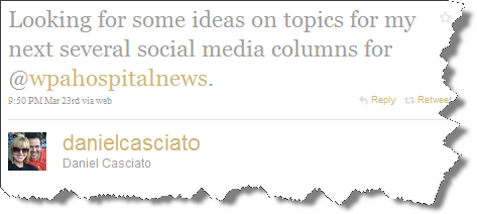 Daniel Casciato uses Twitter to find sources to interview for his articles.
#10: Say Thank You
You'll find many different reasons to thank people on Twitter.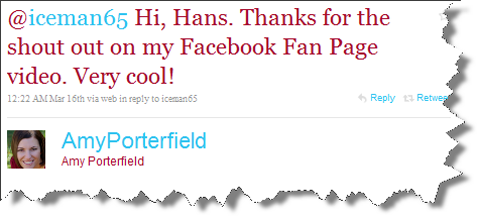 Notice how Amy Porterfield is connecting with this person on both Facebook and Twitter.
#11: Say Thanks When Others Add You to Their Twitter Lists
The people who add you to their Twitter lists are often good connections because you share similar interests. Reach out to thank them and introduce yourself personally. You can use auto-responders to thank people and add information that can lead to new connections.
#12: Ask Questions
Questions work wonders on Twitter. With a little thought you can come up with great questions to find the people you want to engage with on Twitter.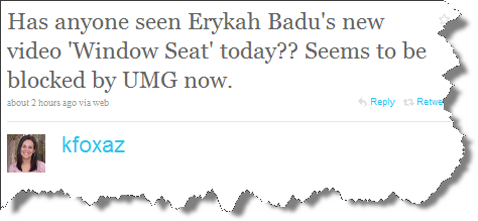 Katie Fox asks a specific question to engage conversation of interest to her.
As you can see, it's easy to start conversations on Twitter.
#13: Use Direct Messaging to break through the cluttter
When you DM another person on Twitter, they are more likely to see and respond than they are to a random Tweet. Direct Messages tend not to get lost in the clutter and are a great way to reach out to others.